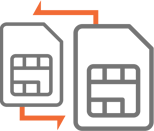 Showing plans for
Delhi NCR

.

Choose your city for plans from your circle.
1
SELECT NEW CONNECTION PLAN

POPULAR
2
CHOOSE NEW NUMBER OR MNP
 +91 Change Number
Change Network, Keep Number.
Using MNP you can change your network provider
and keep your existing number. Delivery Supported:
Delivery area out of reach or invalid pin.
Please verify delivery.
Choose a delivery date and time
Paying with Cash on Delivery